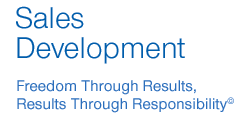 Brad Walker
Territory Sales Manager
AOC
"I was a student of your program a few years back while working in Austin, TX.  I was new to sales, but found an immediate benefit once I began taking your course.  I have since moved onto a career as a Manufacturer's Rep for the largest Polyester Resin Manufacturer in the world.  I have been selling now at AOC for 2 years and have just completed my first full fiscal year.  I took over my current territory when it was generating $41 million annually and contributing less than $0.20/lb profit on all products sold.  In utilizing your system I have been able to generate $55 million in sales along with increasing the profit contribution by nearly 23%.  All without ever handing out a single quote or haggling about price.  I have simply established relationships based on ground rules.  Coming from Manufacturing I found the transition to sales difficult because I didn\'t have a system.
I do now!"
UnCommon Sense© Training
Effective Buyer Facilitation

In order to be effective, training must create behavioral change. Otherwise, people tend to slip back into their comfortable (performance/sales/selling) style that was previously unsuccessful.  Z/Three's non-traditional, comprehensive system has been proven to work in more than 300 industries and professions.
Salespeople can either lead, follow, or get pushed out of the way. Traditional selling approaches often place the sales professional in the awkward position of responding to the prospect's initiatives, rather than confidently managing and controlling the sales process.  Soon, even the best salespeople begin to feel like they are wandering aimlessly. They are.  In an attempt to gain control and to generate results, many salespeople attend seminars trying to improve, but find that they quickly fall back into their old comfort zone and unproductive habits.   Upon completion, they experience a short-term feeling of motivation and take away a few tidbits or "tricks" to bring to their sales appointments. 
You Can't Learn From a Book or a Seminar…
Unfortunately, they are disappointed to learn that seminars, books, and sales tricks don't work.  Successful selling is a habit.  In order to develop a habit, one must understand not only what to do (a process), but also how to do it (behaviors, attitudes, and techniques).   These habits aren't learned in a single class, but must be practiced until "owned".   The Uncommon Sense© Program allows individuals to develop these habits rapidly and effectively while having loads of fun.  We not only teach you HOW to sell, but will also teach you how to reprogram your head trash so you can move out of your comfort zone and make piles of money.
Uncommon Sense© is a high-integrity, easy to understand, non-manipulative process of buyer facilitation designed to create long-term win-win relationships and fantastic results.
Some Popular Uncommon Sense© Sales Training Classes
Satisfaction in Selling
Building Trust in the Sales Relationship
Opposites Attract
Building a Referral Tree, Getting Past Gatekeepers
The Psychology of Buyers
Getting Past the "NEED"
Hidden Weaknesses
SALESercises
Ten Second Commercials and Two-Minute Drills
The Top 10 Mistakes Made by Salespeople