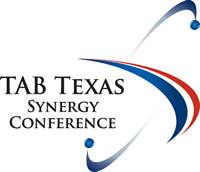 Synergy is a highly exclusive, truly unique TAB-Texas event.
Scheduled to occur on September 25th and 26th, the event will be held in two fantastic venues,
The UT Club and Darrell K. Royal / Texas Memorial Stadium, home of the Texas Longhorns.
Your two-day Synergy ticket includes:
TAB-Texas Happy Hour including drinks and hors d'oeuvres. Network with
over 200 of the most successful, forward-thinking business owners in Texas.
Full Day Conference featuring premier business speakers and content.
Breakout sessions on vital business topics including:
Sales
Marketing
Social Media
Strategic Planning
Exit Strategies
And much, much more…
Breakfast, Lunch, and Refreshments during the Synergy Conference.
Free Secure Parking on both days.
The Best Peer Learning on the Planet!
The Chance to Play in the Synergy Golf Tournament
Tickets are restricted to TAB Texas Members only.
The event has been underwritten in part by generous sponsors in order
to dramatically reduce ticket pricing for members.
Synergy Tickets are priced at $375.00 per person.
Simply click "Pay Now" to register.
If you would rather pay with via check, please contact us at:
Click here for hotels near the conference venue.

TAB-Texas is the largest and fastest growing TAB Organization in the World.
Don't miss a fantastic opportunity to participate in what promises to be the most valuable 24 hours you'll spend all year and to Grow Your Business